Few players give their coaches as much credit as Ashleigh Barty does on a daily basis, and on Monday, she got another chance to show her appreciation by presenting her mentor Craig Tyzzer with the 2019 WTA Coach of the Year award.
The world No.1 and Adelaide top seed has enjoyed huge success with Tyzzer since they teamed up in 2016, when she returned from a lengthy break from the sport. Last year has been their most impressive yet, as Barty was crowned Roland Garros champion, won the WTA Finals, and became the first Australian woman to end the year as world No.1.
"It's a great honour to be voted on by the other coaches. It's a big honour. I guess it means that I've done my job correctly," Tyzzer told reporters in Adelaide.
https://twitter.com/AdelaideTennis/status/1216630369459433473
"They've obviously recognised it. There's a really good bunch of guys out there who are coaching, and girls, on the WTA tour now that we all have lots in common because we all deal with the same issues, same problems. It's nice to be recognised by them for having a great year.
"But it's really my job to get out there and make sure Ash is doing what she does properly. If she has a good year, probably means I have a good year. So I'm not in this for the awards, but it's really nice to be recognised, yeah."
Barty begins her Adelaide campaign on Tuesday against Anastasia Pavlyuchenkova in the second round – she had a bye in round one – and is looking to fine-tune her game ahead of next week's Australian Open.
Her first week of the year saw her fall in her Brisbane opening match to an in-form Jennifer Brady, but she made up for that by reaching the final in doubles alongside Kiki Bertens. She feels confident she'll be ready for Melbourne.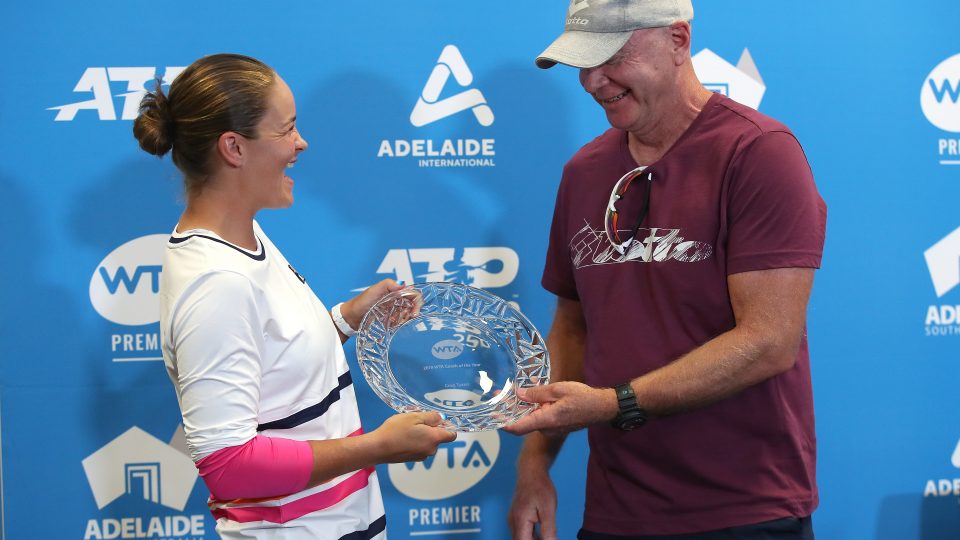 "Every match here is a bonus. I feel like I've trained, done all the preparation well to put myself in a position to try and play my best tennis. That's all I can ask of myself," said the 23-year-old Queenslander.
"Regardless of whether it's one match or if it's three or four or five matches here, I think we'll be ready come next week when we have to deal with that. At the moment, this tournament, kind of my first match here, that's all that's in my mind."
This time last year, Barty was ranked No.15 in the world and hadn't made it past the fourth round at a Grand Slam. She made her maiden major quarter-final at the Australian Open and reigned supreme on the clay courts of Roland Garros five months later.
Back playing on home soil and with the No.1 tag next to her name, Barty insists she does not feel any differently, and isn't worried about how she can handle being at the top.
First hit in Adelaide for World No.1 @ashbarty.#AdelaideTennis pic.twitter.com/iiVQEOJiId

— Adelaide International (@AdelaideTennis) January 13, 2020
"Roger [Federer] has done a pretty good job of it, hasn't he, over an extended period. He's the best of the best, and has been in that position for a long time," Barty said, referring to Federer's lengthy residency at the summit of the men's game.
"I don't think necessarily he changes whether it's 1, 2, 3 or 10 next to his name. It doesn't really matter. I think for me and for my team, we're trying to take that same approach.
"Having a number next to your name doesn't guarantee anything. It doesn't guarantee wins. You still have to go out there, do the work, put all those kind of runs on the board I suppose and work from there. All can you do is try and do your best every single match.
"That's how I'm going to approach this week here in Adelaide. That's how I'm going to approach the Australian Open. That's how I'm going to try to approach the rest of my career, regardless of what number is next to my name."