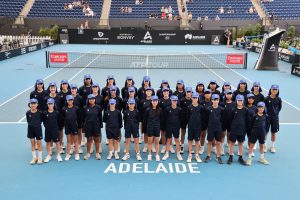 Ballkids play an integral role in ensuring that tennis tournaments run smoothly. Throughout the summer of tennis, each Ballkid is a focal part of every game.
Would you like to share the court with the world's best tennis players? Become a Ballkid and you could find yourself on court at events like the Adelaide International!
The Adelaide International will be held from 8 to 13 January 2024, with qualifying commencing Saturday 6 and 7 January 2024.
We are looking for children aged 12-17 to be a part of our Ballkid Squads. No prior experience necessary!
Registration
Registrations for Adelaide International are open now! Register your interest HERE
For further information
Jacinta O'Loughlin
Ballkids Manager
[email protected]