Iga Swiatek dropped just four games in dismissing Belinda Bencic in the final of the Adelaide International on Saturday night.
The Polish teenager beat the second seed 6-2 6-2 to capture her second tour-level title, and first on hard courts.
And just like she did when storming to the title at Roland Garros last year, she won the tournament in Adelaide this week without losing a single set.
RELATED: Guarachi & Krawczyk hoist Adelaide International doubles trophy
"I would say so that this tournament is kind of the high of the year. The season just started, so I didn't have many opportunities. For sure, I felt really confident here and really solid on court," Swiatek said.
"It's good for me because I can see that I can play good tennis for the whole week. It wasn't like one time during the French Open. It gives me more confidence that I'm, like, more developed player and I can play good more often. I'm really happy about that.
"It just gives me motivation. It's good."
Swiatek belted 22 winners against just six unforced errors in a display of power, relentlessness and athleticism that thoroughly overwhelmed Bencic.
The Swiss star struggled on serve, committing eight double faults in a contest that spanned just 62 minutes.
Simply stunning ✨

A second career title for @iga_swiatek as she defeats Bencic 6-2, 6-2 to secure the @AdelaideTennis women's singles title! 🏆 pic.twitter.com/wtiso8yrYr

— wta (@WTA) February 27, 2021
After slotting an ace out wide to hold at love for a 2-1 first-set lead, Swiatek was soon ahead 5-2, and then hammered three forehand winners to arrive at set point in the eighth game.
Bencic erased that opportunity with an ace, and a competitive game unfolded featuring five deuces.
Bencic's sixth double-fault saw her lose a game point, and two points later, Swiatek lashed a forehand with heavy topspin for a return winner to take the opening set.
At 1-1, 0-15, Swiatek blew Bencic away when she began a run of 12 consecutive points.
She played an off-backhand winner to lead 0-40 in the fourth game, and broke for a 3-1 lead when Bencic double-faulted again.
An ace, followed by an unreturnable serve, in the following game saw the 19-year-old hold at love and extend her lead to 4-1.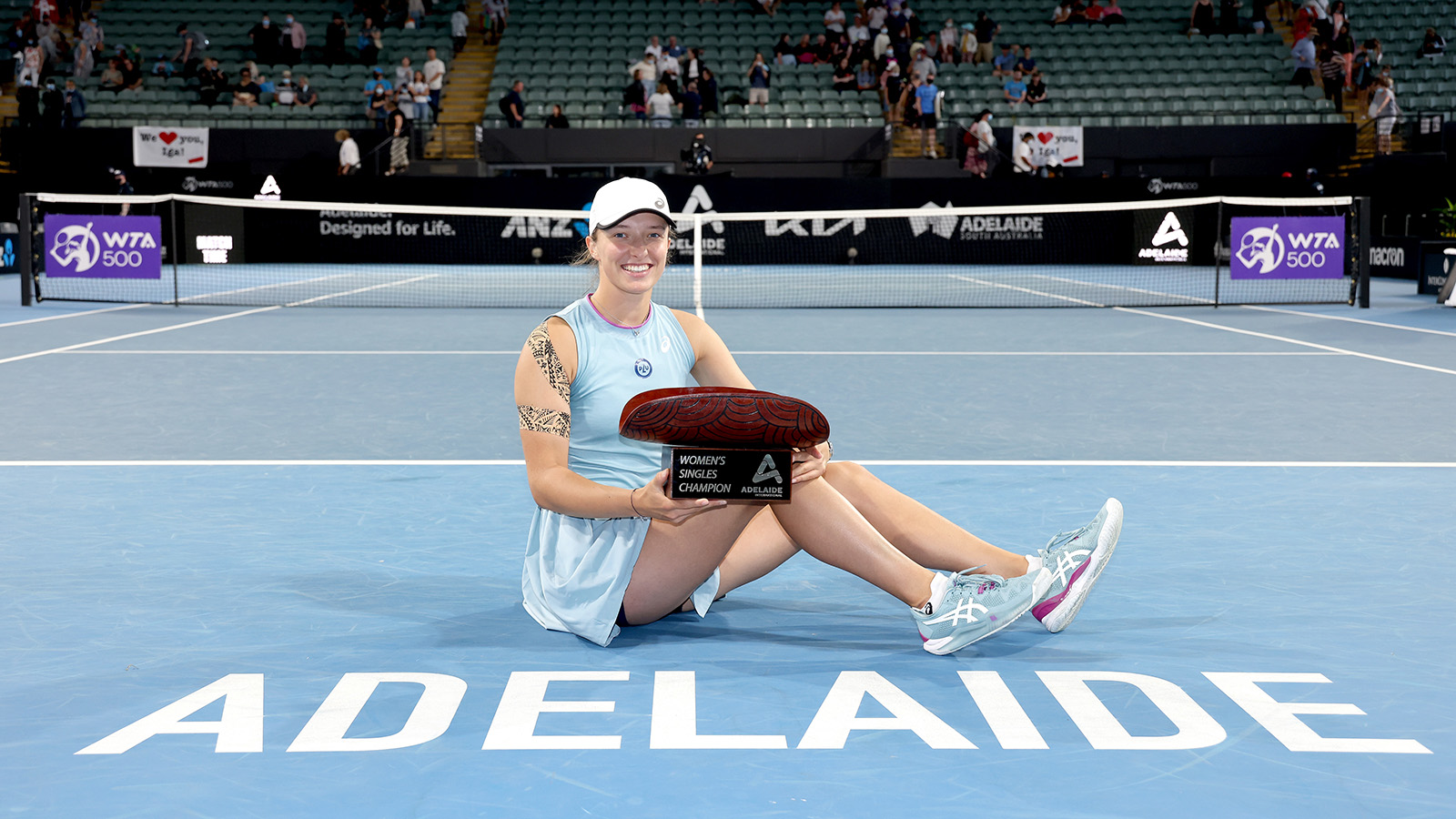 Swiatek was in full flight in the final game, cranking a backhand winner to reach 15-30 followed by a forehand winner for 15-40, and a pair of championship points.
Channel Nine TV commentators Jelena Dokic and Mark Petchey were in awe of the level Swiatek was producing.
"The athleticism is insane!" Dokic exclaimed, before Petchey added: "I love watching her move."
Two points later, Bencic fired a forehand long, and Swiatek was the champion.
https://twitter.com/AdelaideTennis/status/1365595428465635335
"For sure there is something that clicks," Swiatek said when asked what it felt like to win another title without dropping a set.
"Not only in my head but also, like, physically, tennis-wise. I feel pretty good on court. That's actually, I don't know, maybe third time that I have this kind of flow during the whole week or two weeks at French Open.
"Our goal right now, I guess, is to have that more often because I know I can play great tennis.
"I feel like sometimes I have weeks when everything clicks, and that's just the effect of the work we're doing. It's impossible to play at the same level for the whole season.
"I'm really happy I have weeks like that and I can win tournaments."