Arina Rodionova is feeling really good about herself right now and she has every reason to be.
The Australian world No.202 posted a third consecutive top-100 victory for the first time in her career by upsetting former US Open champion and world No.25 Sloane Stephens 6-2, 6-2 on centre court at the revamped Memorial Drive Tennis Centre on Tuesday.
The 30-year-old – one of four Australians in the Adelaide International women's main draw this week – followed up her wins over Carla Suarez Navarro and Anastasia Potapova in qualifying with a commanding performance against Stephens, who bowed out to Rodionova in just 70 minutes of play.
"This is my third big win of the week, so I'm not counting anymore. Hopefully I only manage to continue," a smiling Rodionova told reporters after her match.
"It's always great to get such amazing wins against the top players. So, yeah, I feel pretty good about myself right now."
Arina wows the arena with a sparkling performance ✨

R2 for @arinarodionova after a 6-2 6-2 win over Stephens#AdelaideTennis pic.twitter.com/E2pvvVeNGQ

— Adelaide International (@AdelaideTennis) January 14, 2020
This was Rodionova's best win, by ranking, since her success over Anastasia Pavlyuchenkova at Wimbledon in 2017. The Australian credits a strong training block during the off-season for her solid start to the 2020 season,
"I changed it up a little bit and I was working on more specific stuff, working on my serve, and I tried to change it up and play a bit more aggressive and try to come to the net if I can," she explained.
"I feel like I have a bit more clear plan when I go out on court, and I'm trying to focus not so much on the result but on making sure I follow the plan, and the results kind of come once I manage to do this."
She has her eyes on breaking the top 100 for the first time this season and feels like she is building confidence with every match she plays.
"That's probably my biggest goal, and I will try to do anything I can to achieve it," she says of breaking that top-100 threshold.
"Overall, I just want to have fun and have a good year on tour. I'm going to try to maybe play a little less tournaments and maybe have a little bit more training blocks and be a bit more smart with how I plan my calendar. But, yeah, just stay healthy and have some fun."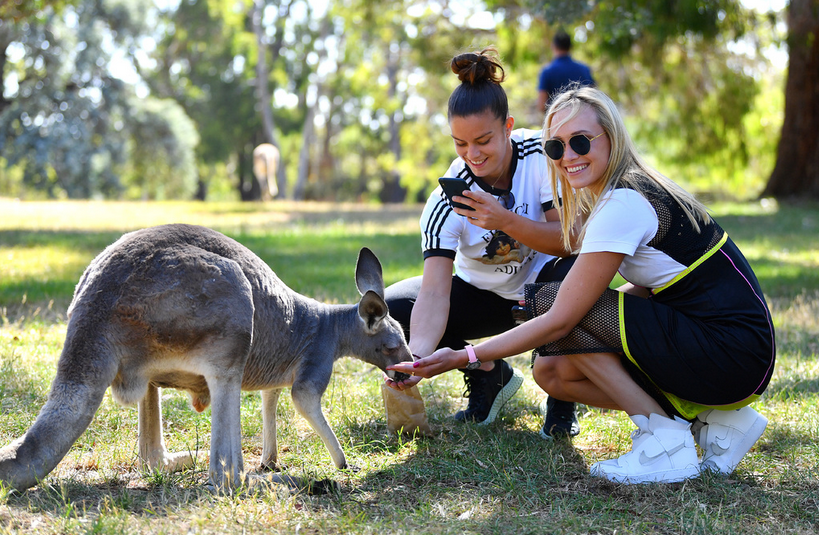 Over on Match Court 1, Greek world No.23 Maria Sakkari claimed her first win of the year with a 7-5, 6-2 triumph over Russian lucky loser Vitalia Diatchenko.
Sakkari lost an early break advantage but recovered to take a one-set lead, then opened up a 4-0 gap in the second. She completed the win in 87 minutes to set up a second round against her good friend Donna Vekic.
"It was going to happen. We already played a lot and we know each other really well. We have been having dinners since we came to Australia every day together, the three of us, me, Donna and Ajla [Tomljanovic], with our teams. But it's just another match, we both want to win, we're going to do our job on court and then after that, we're still best friends," Sakkari told adelaideinternational.com.au.
Sakkari, Vekic and Tomljanovic have indeed formed a great friendship on tour, knocking down the misconception that it's a lonely, cut-throat environment on the women's circuit.
https://twitter.com/AdelaideTennis/status/1216563523842494465
"I'm friendly in general so… for me I wouldn't be able to be on tour and just be all to myself," Tomljanovic said in Adelaide on Monday.
"I've traveled with my dad and he's more loved than me on tour unfortunately, so he always brings friends that I didn't know we had. I think it's really healthy to have good relationships on tour."
Vekic crashed Tomljanovic's press conference and interrupted her by saying: "Do you have good relationships on tour?"
Tomljanovic continued with a laugh: "Like Donna thinks we're good friends but really we're not, I'm just faking it. No I'm just kidding.
"I couldn't do it if I didn't have quality friends on tour. I can still play a match and give it my all, come off and it's like that. I don't believe in that sort of thing where everyone is an enemy."
Tuesday was also a good day for 20-year-old Czech Marketa Vondrousova, who made a winning return to the court following a six-month absence that included wrist surgery by defeating Tatiana Maria 6-3, 6-0. The French Open finalist, seeded No.8 this week in Adelaide, next takes on Rodionova for a spot in the last-eight.
"I'm just very happy with my win today. It's been almost six months, so it's perfect," said Vondrousova.
"I had a slow start but then I played pretty good. I had a great off-season, so I played some sparring matches, so I felt good.
"She's a tricky player and I played her once in Miami last year. I'm just very happy with my game today, I served pretty well. The first few games I was pretty nervous, but then I got back to 2-all and then I was just playing my game again."