When a 19-year-old Marketa Vondrousova posted the biggest result of her career by reaching the Roland Garros final last June, she had no idea her season would come to a premature halt just three weeks later.
The Czech lefty picked up a wrist injury at Wimbledon, where she lost in the first round, and eventually went under the knife in September after weeks of searching for solutions for her problem.
Full Adelaide International draws HERE
Now fully recovered and ready to return to action following a six-month hiatus, a smiling Vondrousova is thrilled to be kicking off her season at the Adelaide International this week, where she is the No.8 seed.
"It's been very tough, but I'm all healthy now, so it's good. I'm pain-free," Vondrousova told adelaideinternational.com.au.
Vondrousova began preparing for the new season in early November, and has had a full two months of practice in Prague before flying to South Australia.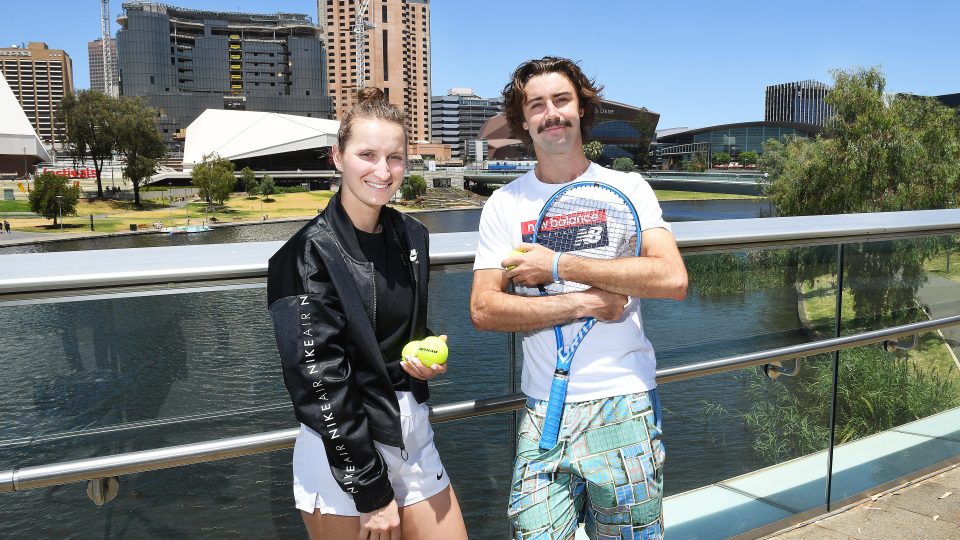 But it was the period of uncertainty before her surgery that proved to be the toughest, and she's grateful she can put it all behind her now.
"I had the problems with my wrist at Wimbledon, I lost the first round and then I didn't play. We talked to so many doctors and nobody knew what was going on," she explains.
"We flew to the US Open and I couldn't play so I pulled out and came back to Czech and they figured out that I needed surgery, then I cried of course.
"It was very tough. But I was in the stage where no one knew what was happening that I was like very relieved when they told me I have to do surgery then I can come back, so I was like, 'Okay, we can do it'. It was my left arm, it was my playing arm, so I was a little bit scared but everything went well, so it was okay."
Conversations with her doctor, her team and her family helped ease her worries, but she also received many warm messages from her fellow players, wishing her a speedy recovery.
https://www.instagram.com/p/B2hWV0BIjya/
"[Caroline] Garcia texted me, that was very nice. I'm really close friends with CiCi Bellis, she's also coming back, we're playing doubles at the Australian Open, I talked a lot with CiCi [during my time away]," Vondrousova said, referring to fellow 20-year-old Catherine Bellis, who herself has had a lengthy battle with right arm injuries that required multiple surgeries.
Vondrousova stormed onto the scene when she clinched her maiden WTA title in Biel at the age of 17, in what was just her second tour-level main draw appearance. A year later, she reached the fourth round at the 2018 US Open, and she made the Australian Open doubles semi-finals at the start of 2019 alongside her fellow Czech Barbora Strycova.
In Paris during the spring, Vondrousova blasted through the draw and reached her first Grand Slam final, without dropping a set, before she fell to Australia's Ashleigh Barty on Roland Garros' Court Philippe Chatrier.
Currently ranked 16 in the world, she refuses to put any pressure on herself as she eases her way back to competitive tennis.
"I'm just happy that I can play healthy and pain-free. I don't expect to play finals right now but I'm just really happy I can be back on court," she assures, adding that she hasn't set herself any specific goals for 2020 just yet.
"In practice I get mad when I'm not playing that good. I just want to play really good like I did last year. There's no pressure, I'm also playing for fun."
During her time away, Vondrousova kept her eye on the happenings of the tennis tour, and was impressed by Bianca Andreescu, who won the US Open, as well as Barty, who ended the season as the WTA Finals champion and the world No.1.
"I'm watching tennis always, I was a bit sad I wasn't there but I watched all the matches," said Vondrousova.
"It was amazing [what Bianca did]. I think she's a great person and she really deserved that, it was amazing how she played there, it was like 'wow'.
"Barty gave me a pretty good lesson in the Roland Garros finals. She's a great person, she's very kind and stuff, I'm just very happy for her that she's playing so great and she's also No.1 in the world, so that's amazing."
Vondrousova helped unveil the draw for the inaugural Adelaide International – she plays a qualifier in the opening round – and says she likes what she's seen of the city so far.
"It's so nice for the fresh start of the season and for me also. I really like this town. I'm here with my coach and mum so she's really enjoying this town and I'm very happy to be here," she said.
"If you finish practice and you walk five minutes to the hotel, it's perfect."
Looking back on her roller coaster 2019, she singles out two main lessons from her experience with a beaming smile.
"I think the first one was that I can play with anyone and the second one was that I really missed tennis the last six months, so yeah, I just love tennis."