With a little extra inspiration from a visit to Port Adelaide Football Club, Simona Halep commenced her 2020 season with a straight-sets victory over Australian Ajla Tomljanovic on Tuesday, to join world No.1 Ashleigh Barty in the quarter-finals.
Halep, who feels like an adopted South Australian courtesy of her connection with her Adelaide-born coach Darren Cahill, overcame a stiff challenge from Tomljanovic before advancing 6-4, 7-5.
"It is a nice feeling because everyone is very friendly with me. Actually, this morning I have been to the Port Adelaide Club and I met all the players, about 40 all together. We had a very nice time together, and they actually inspired me. So I feel like always I have a warm welcome here in this city, and I play with pleasure," the Romanian said after the match.
Vossy chats about what the playing group took away from hearing @Simona_Halep speak at the club this morning 👇#weareportadelaide pic.twitter.com/hdLHcnAyVC

— Port Adelaide FC (@PAFC) January 14, 2020
Playing her first tournament with Cahill back in her camp – he took a one-year break from coaching in 2019 – Halep is keen to see the hard work she put in during her pre-season training block in Dubai pay off on the court.
The 28-year-old focused on getting stronger and fitter and can already feel the impact that has had on her game. She withstood some fierce hitting from Tomljanovic, who wiped out an early deficit in the second set but eventually succumbed in straights.
"Actually, I worked the hardest since I started to play professional," the former world No.1 said of her pre-season. "It was a good period, and I'm sure that those weeks will help me during this year, not just now. I don't want to rush and to say that I want now results this month. It's for the whole year."
Once a @PAFC fan, always a PAFC fan, hey @simonahalep? 😉#AdelaideTennis #weareportadelaide pic.twitter.com/ZjudljT9Yh

— Adelaide International (@AdelaideTennis) January 14, 2020
Earlier in the day, Barty was put through her paces by Anastasia Pavlyuchenkova, who clawed her way into the final set after going down a double-break 2-5 before surrendering to the Aussie top seed 4-6, 6-3, 7-5.
"Credit to Anastasia when her back was against the wall at 5-2. She came out swinging, and I felt like in that game in particular I didn't do a lot wrong. I hit my spots on serve, and then she came up with the goods," said Barty, who is now 3-3 head-to-head against the Russian.
"So I have to give credit where credit is due, but very happy, very proud of myself the way that 5-all game I was kind of able to re-gather and then get that last bit of momentum that I needed."
https://twitter.com/ashbarty/status/1216989038021734400
Barty had a remarkable 19-7 win-loss record in three-set matches last season – only Belinda Bencic won more three-setters in 2019 – and came back from a set down on 13 occasions.
It's a statistic that gives her a massive confidence boost, even when she is trailing her opponents.
"It's something I try and pride myself on is that no matter what the score is, I try and hang around for the whole match every time," said the Queenslander. "Last year we did it really well, had a really good record of when I'd lost the first set, of coming back and trying to win those matches.
"Today was no different. I felt like I was doing the right things. I just needed to hang in there and wait for an opportunity to come and then try and grab it. Yeah, pretty happy to be able to turn that one around."
Meanwhile, former top-10 player Julia Goerges booked her second round spot with a 7-6(7), 6-3 result against Australian Priscilla Hon and has a challenging duel ahead with No.4 seed Bencic.
Goerges, who had a difficult 2019 that saw her drop in the rankings after peaking at No.9 a year before, is keen to make a return to the top 10, with the help of a new-look team in her corner.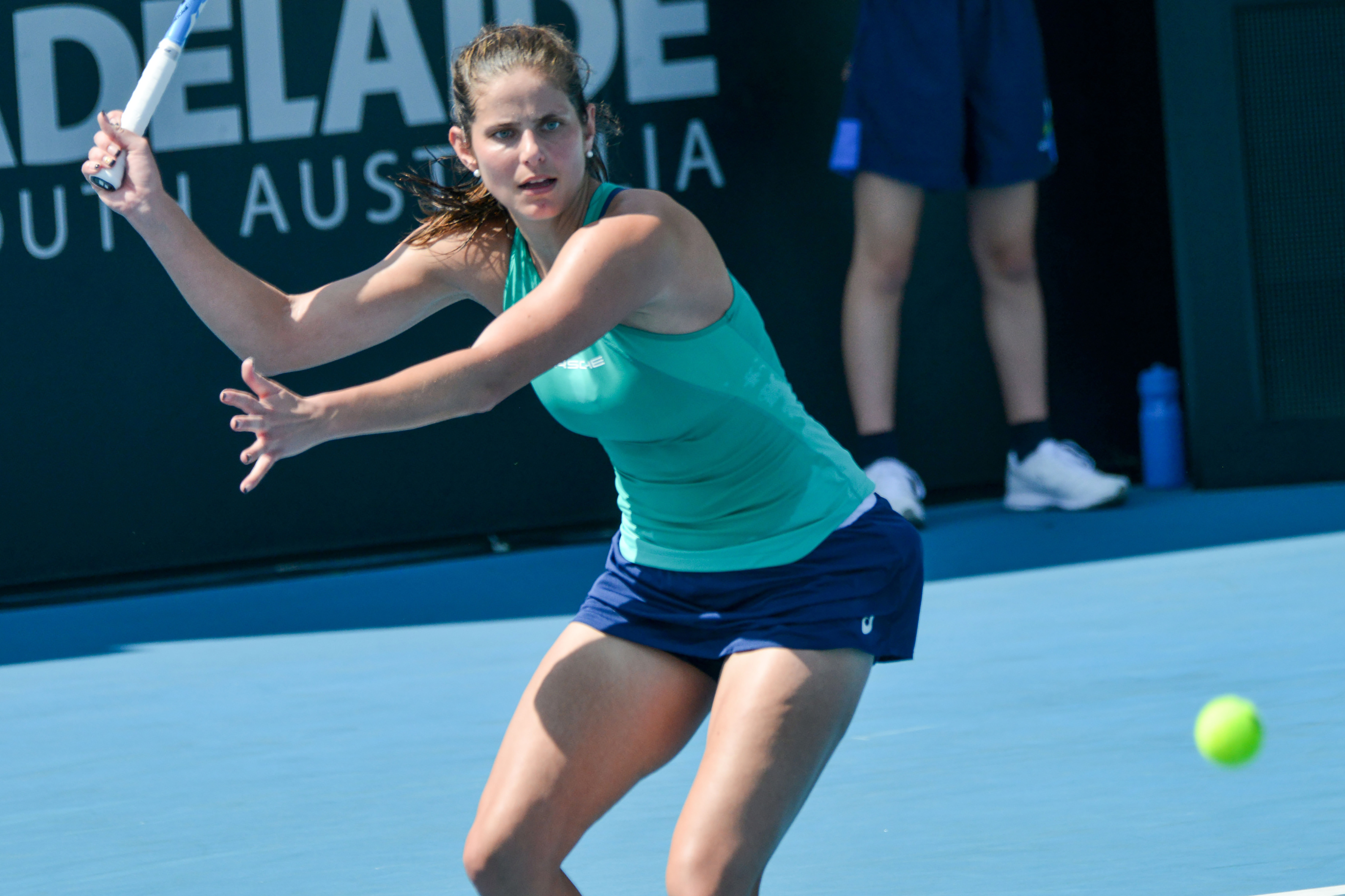 The German 31-year-old hired former Fed Cup captain Jens Gerlach as her new coach, along with Scott Byrnes as her fitness trainer, and has set herself some big goals for 2020.
"Definitely going into the direction where I've been, that means top 10. But for me, more importantly is having fun and enjoying what I'm doing. And having a completely new team again, I think that's the goal we have, working hard, enjoying what we're doing and the results will come," Goerges told adelaideinternational.com.au.
"We have a good vibe in the team, that's more important I think. Last year was a tough year for everything running in the background, I think I've done a good job to stay in the top 30, finishing there.
"Obviously I wanted to have things done differently, sometimes you have people in your group as well where you expect things being differently, but I had to handle things in a different way, which I didn't want to, but I think they were necessary.
"Now I'm very happy with the people I have in my team, we have a lot of fun. I've known Jens for a long time from Fed Cup as well, he's a great guy, he's very positive, which I like, which is also important, enjoying the stuff you're doing, working professionally with Scott also on the team and my physios. I think we have a cool group, that's important for me.
"I'm in the last years of my career, which is important that I enjoy and also I still have a lot of goals I want to achieve."