Reigning Australian Open champion Novak Djokovic has inspired thousands upon thousands of people across several generations to take up tennis and one autograph hunter in Adelaide back in 2007 was one of those to take inspiration from the Serbian.
"I came here way back in 2007 when Novak (Djokovic) beat Chris Guccione in the final. I always dreamt of one day being able to play on these courts. All these years later, having the chance to do that is pretty cool," said local Alex Bolt.
"I actually got Novak's autograph on one of the back courts and I'm pretty sure that was just before that final.
"That was about the start of Novak's rise and also seeing an Aussie (Guccione) in the final too was pretty inspiring. It definitely made me want to take up tennis professionally."
Aussie, Aussie, Aussie!@abolt15 reaches the quarter-finals with a straight sets victory over Struff.#AdelaideTennis pic.twitter.com/8oVeCk1EAY

— Adelaide International (@AdelaideTennis) January 15, 2020
The Murray Bridge resident is relishing the chance to compete at home courts and that's been evoked in his opening matches.
The world No.157 navigated past French veteran Stephane Robert 6-4, 2-6, 6-0 before defying his ranking to produce a polished performance in a 6-3, 6-4 victory over No.7 seed Jan-Lennard Struff.
"I love it down here, it's where I grew up and spent all of my childhood," declared the 27-year-old.
"It's pretty cool being able to play in your hometown in a tournament. It's a dream come true.
"It's my first quarter-final of a tour event, so I'm proud of how I've played so far this week.
"It says a straight-sets scoreline, but it was a lot closer than that. Struffi is a quality player, I knew I had to bring my best game throughout the whole match and I felt I did that pretty well. Last night I let my level drop in the second set, but today I kept my level the whole match, so I'm pretty happy how it went."
Bolt was cheered on against world No.37 Struff by a selection of friends, family, his parents and brother, which means a lot to the Australian.
"All the support I've had from back home has been really cool. I probably didn't hear too much from them because I felt in the zone, but the support I've had from the crowd the past couple of days has been unbelievable."
A big part of Bolt's youth was playing basketball, a hobby he maintains as a guard with the Union Road Royals in the Maribyrnong Basketball League.
"It's something I like to do to take my mind away from tennis. Me and two of my housemates run a social basketball team," explained Bolt. "We take it a little bit too far and try to make ourselves look as professional as possible.
"It can actually help my tennis with the movement and fitness as well."
The 27-year-old is looking sharp on court, perhaps courtesy of his basketball, but also due to his endeavours in the off-season.
"Last year was a great start, but it plateaued a bit, I had a few niggles. I wasn't playing as well as I could have the last six months of the campaign. Saying that, I feel like I really knuckled down in pre-season in Melbourne," reflected the home charge. "I've trained really hard to get into the best possible shape."
Melbourne is a significant setting for Bolt, which is where he burst onto the Grand Slam scene last season with a thrilling third round journey at the Australian Open.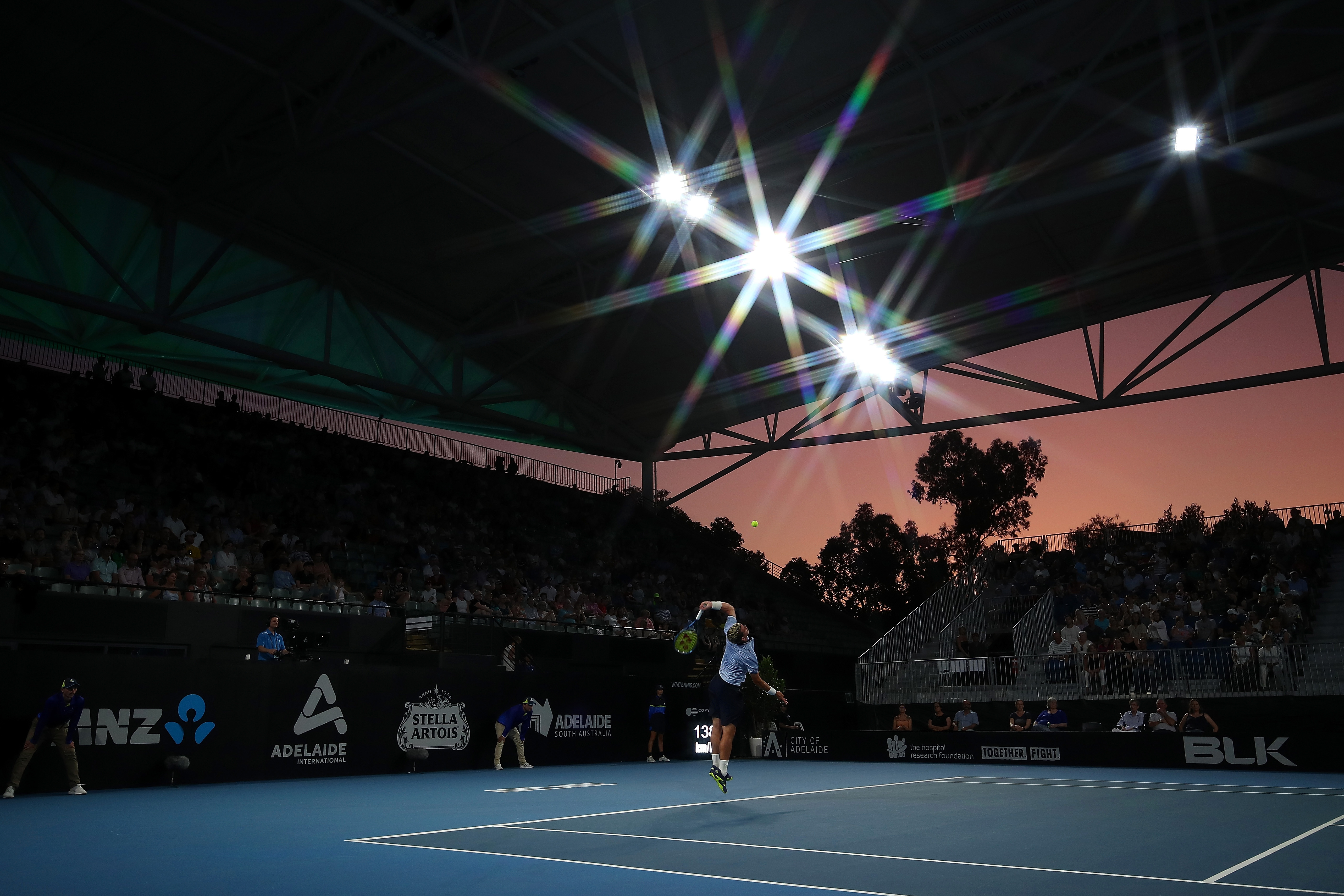 "I'd have to say the standout memory was that second round with Gilles Simon. It was a five-set epic, it pretty much had everything, a real roller coaster. I remember saving the four match points in the fourth set tie-break.
"Coming back and winning in five, it's probably something I'll never be able to re-create on a tennis court. I won't forget it for the rest of my life.
"I'm hungry for more success, I don't want that to be the best result I finish with."
Now into the quarter-finals at Memorial Drive Tennis Centre, Bolt senses a chance to surge into trophy contention on his home courts, despite facing second seed Felix Auger-Aliassime on Thursday night.
"Definitely up for the battle, he's a quality player," said the ambitious Bolt, referring to the Next Gen Canadian, whilst targeting more magic in Melbourne.
"I just feel like now anything is possible for me this year.
"Back to the home aspect, not many people can say they have a tournament in their home yard, let alone play in it and go deep. If I was able to win one or two more matches, it was be brilliant.
"I've had a couple of great wins here to start 2020 and hopefully that can be a stepping stone for the rest of the season."