South Australia has welcomed the return of world class tennis to the region and no one was more thrilled than Simona Halep.
The two-time Grand Slam champion was the first player to commit to the inaugural Adelaide International five months ago and has been training at the revamped Memorial Drive Tennis Centre for the past week.
There is a local connection of course for the No.2 seed through coach Darren Cahill.
"I like this city. It's like kind of home, let's say, because Darren is from here. It's similar to my hometown back home (Constanta)," continued the 28-year-old.
"I spent the Christmas here few years ago. Also the people are very friendly to me, so makes me feel great.
First match on Aussie soil in 2020@Simona_Halep | #AdelaideTennis pic.twitter.com/J87fbwRIs6

— Adelaide International (@AdelaideTennis) January 13, 2020
"The fact that he (Cahill) came back to live here means a lot. Family comes first always. It's nice that they are together, and that I have the chance to be with them here."
Whilst embracing time in Cahill's neighbourhood, Halep is raring to go for the 2020 campaign following a satisfying off-season in Dubai.
"I feel good. I feel healthy. I have no problems. I had the chance to train properly in the off-season. I worked hard. I feel much better than last year when I started the year. Now we have just to play and to see how is going to go," said the reigning Wimbledon champion, who takes on Ajla Tomljanovic on Tuesday.
"I'm excited to be here. I'm ready to start tomorrow my singles match. Is nothing easy, so I'm ready for a tough battles this year. Actually being the first tournament, I know is going to be a little bit more difficult. But it's difficult for everybody. I'm going to keep focusing on myself as I did before."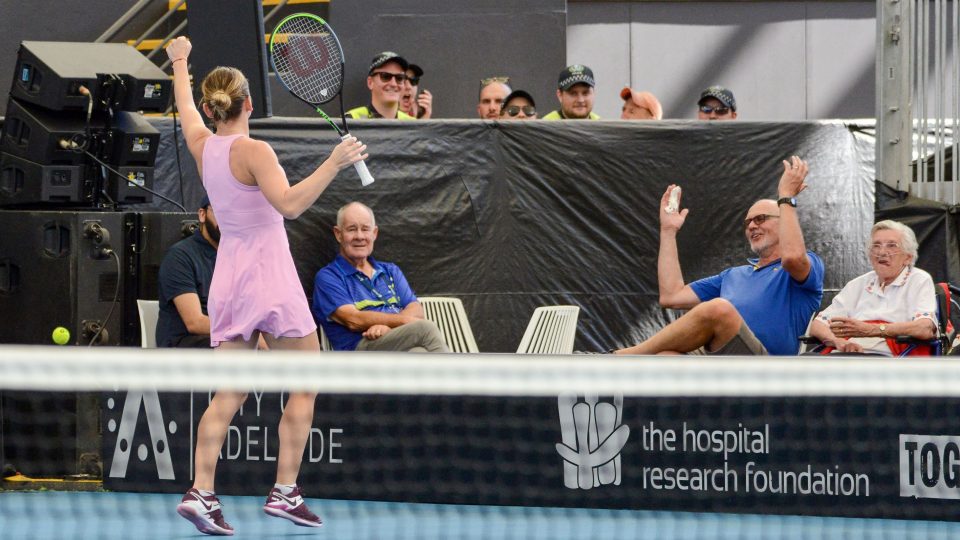 Halep, 2018 finalist at the Australian Open, appears calm and collected on the surface, but underneath is a determined desire for more major success this campaign.
"I'm not that relaxed, honestly," joked Halep during her press conference. "I'm a little bit stressed because I have worked hard in the off-season. Coming here 10 days before, it was a good thing for me. But still now I can say I have bigger expectations from myself. I feel the stress. But Darren told me that it's not about just this month, it's about the whole year, everything I have done before in the off-season.
"So I try just to play matches because I need matches, then to relax myself like I did the last two years. I need to be relaxed and I need to enjoy more. So my goal for this year is, of course, a Grand Slam, I started to like it, and my priority is the Olympics. I really want a medal. Doesn't matter which one or where, like singles, doubles, mixed. I just want one. I will do everything I can to do that."
These are lofty goals for the former world No.1 and sometimes the expectations Halep puts on herself can boil over. Well, the Romanian is eager to utilise that negative energy for a positive cause.
Halep revealed on social media she will donate $200 to the Aces for Bushfire Relief program every time she snaps at Cahill in the stands.
https://twitter.com/Simona_Halep/status/1203280053339066369
"Every day I have (given Cahill a hard time). Every time I play an official match, I have these looks," said the No.2 seed, having also featured in the memorable charity match at Memorial Drive on Saturday night.
"Yeah, I note on my notebook every time I do a bad face on court. I will donate in the end of the Australian season."
There is a familiarity for Halep in reuniting with Cahill in 2020, but in the pursuit of perfection Halep has recruited her compatriot Artemon Apostu-Efremov to help the with travelling commitments of coaching.
"Yeah, I know him since long time, but we never worked together. I knew him from Irina Begu. They worked five years and did a great job together. With Arte, I have decided that I need the new voice in my team. He can travel a lot. So he will be by my side most of the tournaments, also where Darren cannot come," explained Halep, with Arte joining the set-up in the off-season.
"I think now it's a good team around me, like always actually. I feel happy that it's something new here. I hope in good spirits."