As a result of Alex de Minaur's unfortunate withdrawal from the Adelaide International, Felix Auger-Aliassime is now the leading light hunting down the silverware in South Australia.
It's easy to forget that the 'Next Gen' Canadian prodigy is only 19 years old.
Last January he was seeded No.2 in the Australian Open qualifying, falling at the second hurdle, but now due to his rocket rise up the rankings, Auger-Aliassime arrives at events amongst the contenders with his face adorned across the marketing posters.
"Yeah, it's different pressure. I think I've dealt with it maybe a few times last year where I was seeded, some 250 events. Fingers crossed, it's going to be like this most of the time in the future," stated the articulate teenager during his press duties in Adelaide.
"In a way you think, 'Okay, I have my chances of going deep.' At the same time you're the rabbit, the player that everyone wants to beat. It's a different approach. It's a bit more pressure. At the same time it's a good one."
.@felixtennis is feeling your positive vibes, Adelaide!

See Felix in action this week and get your tickets at 🎟 https://t.co/t75G3T2SOD#AdelaideTennis pic.twitter.com/m4M1bEyOvn

— Adelaide International (@AdelaideTennis) January 13, 2020
The No.2 seed returns down under following an astonishing 2019. This time last year Auger-Aliassime was outside the top 100, but rattled through results to reach three ATP finals in Rio de Janeiro, Lyon and Stuttgart. He was the first player born in 2000 to feature in an ATP title match.
Consequently, the talented teen became the youngest top-25 ranked player since Adelaide's very own Lleyton Hewitt 20 years ago.
Felix is delighted with his landmarks and records, but is adamant he must maintain the hunger, that drive to reach the upper echelons of the sport.
"It's funny because it's a year but it feels like almost two because it was really, like, I would say three-quarters of the year was unbelievable, really good. I kind of hit a tougher period after US Open, during that time," added Auger-Aliassime, referring to his injury-hit end to 2019.
"So, I feel like I just had a chance to experience a lot of things in that year. Unbelievable performances, new milestones, a lot of great things. Also, tougher times where, I had to re-centre myself, see how I want to play, how I want to compete.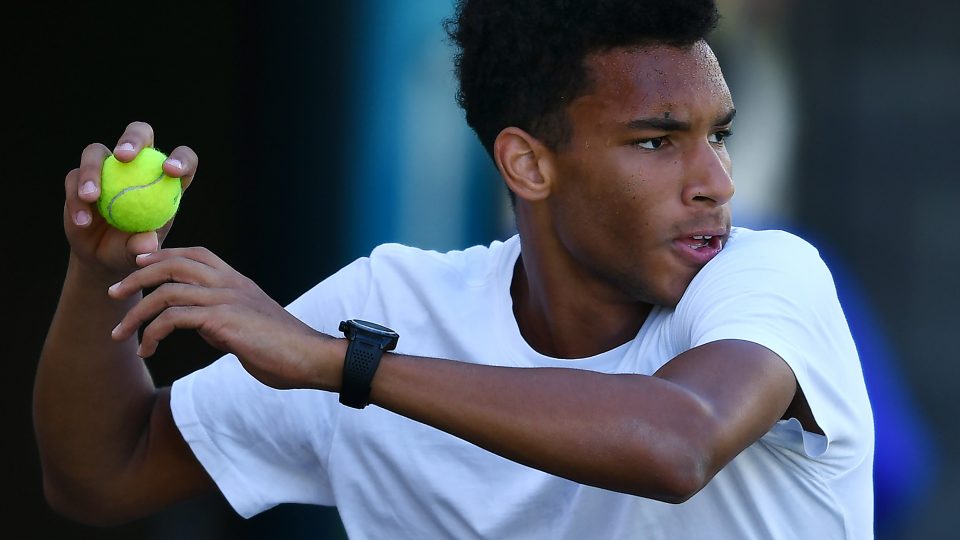 "But overall it was a really good learning experience, really good learning year, with also a lot of positives with the match wins and the improvements in my ranking. I'm obviously happy where I'm at, but I also feel inside of me where, even I could be 100 or 200 or 20, 10. I still feel the same. I still feel like I want to improve. I'm not satisfied of where I'm at."
The Canadian has recovered from a persistent ankle injury and enjoyed a fruitful off-season in Monaco.
Replenished and ready to unleash his full artillery on the court, Auger-Aliassime opens his Adelaide account against Australian James Duckworth on Wednesday.
"Training was good. I was feeling good physically as the weeks were going. Just working on everything, nothing in particular. My serve, obviously it's a big weapon, serve and forehand. If I can secure that, keep improving that, it's for sure going to bring me places," said the world No.21.
"There's things I needed to adjust and improve on my serve, for example, my second serve. I think it was good to have the time to do that, to have the time to work on these things. I'm feeling fresh mentally, which is also good. Yeah, we'll see where that leads me."
"I really enjoyed playing on this court, I enjoyed playing in front of this crowd. Put me back on centre court, please?"@JamesDuck21, we'll see you in the second round 🙂#AdelaideTennis pic.twitter.com/BoT628fAGL

— Adelaide International (@AdelaideTennis) January 13, 2020
Auger-Alliassime remembers facing Duckworth back on his ATP Tour debut in Toronto Masters qualifying back in 2016. He's expecting a tough test facing the rejuvenated home charge, but until then will continue to explore Adelaide in his free time.
"It's good. Never been before. Always cool to experience a new place, a new city. Start of my career, so I'm getting to know new places, new cities," he reflected. "This is one of them. It's nice to see the people are happy to see me here. They're looking forward to see me play, see me perform. Overall I feel positive energy."
Auger-Aliassime would love to harness that South Australian positivity to boost him towards a maiden ATP trophy.
"I mean, that would be great. It's tough to think of that already. It's only the start of the year. I played a few matches in ATP Cup. Didn't go my way. We'll see match by match here," he added, clearly eager to become a champion having lost out three times on tour.
"It would be great just because it would kind of be a big relief to start the year, obviously to get my first title under my belt, just to feel, like, 'That's something I want to do this year.' If that could be done this week, it would just be the perfect scenario. I don't want to put too much pressure on myself with results now. It's not the time. I just want to feel like I'm playing good tennis leading into the Australian Open."